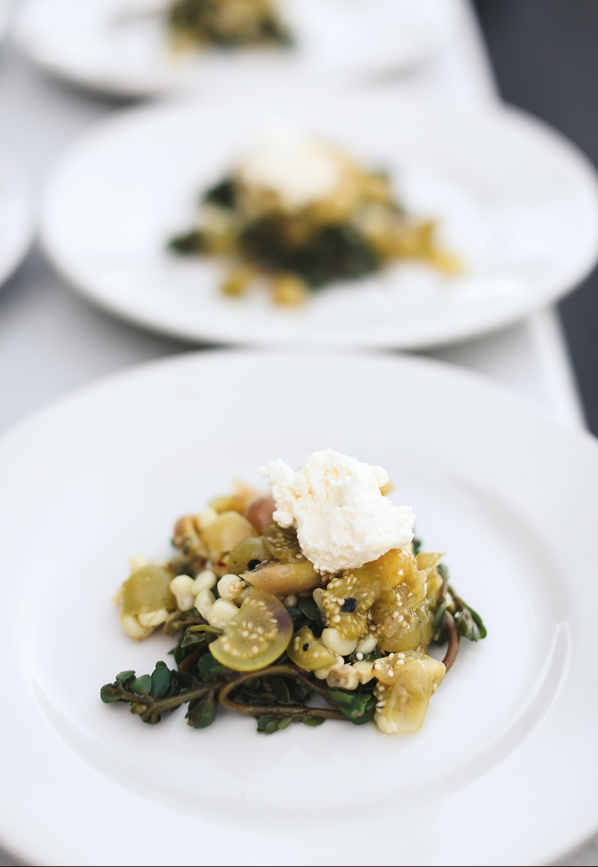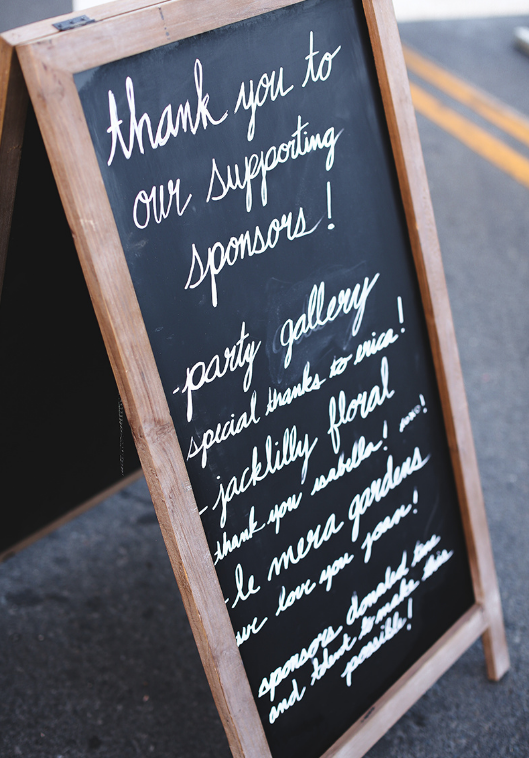 On a warm evening in September, Oak Street in downtown Ashland was transformed: glowing string lights hung carefully from orchard ladders lined the sidewalk; stunning floral arrangements by Jacklily Seasonal Floral Designs filled the air with the final fragrances of summer; and beautifully handcrafted tables by Motif Event Rentals created an atmosphere of community gathering.

The Harvest Dinner on Oak Street was an unforgettable evening; not simply because the meal was one of the finest in the Valley (though that is assuredly a factor). This event captured the beauty of our community coming together to celebrate the bounty of the region, as well as to support garden and nutrition education for children throughout the Rogue Valley. The meal itself was an unforgettable four-course collaborative effort from some of the most renowned chefs in Southern Oregon:
Hors d'oeuvres by Neil Clooney of Smithfield's Restaurant & Bar included
Rabbit rillette with pickled mustard seeds, radish, parsely, and crostini
Oak-smoked brisket lettuce wrap
Fingerling potato salad with a smoked blue cheese dressing
Ratatouille, parsnip chip, fromage blanc, and micro basil
First Course by Javier Cruz of Standing Stone Brewing Company
Lamb brochette with tomatillo, heirloom corn and purslane
Finished with house made feta and pomegranate beer mustard vinaigrette
Entree Course by Damon Jones and Granco Console of Larks Home Kitchen Cuisine Restaurant
Braised pork shoulder with heirloom tomato jam
Brown butter carrot purée with lemon dill fennel slaw, micro greens
Dessert Course by Cora Console of Luna Cafe and Mercantile
Orchard cinnamon apple cobbler with flour biscuit and fresh whipped cream
This event would not have been possible without the passion, hard work, and dedication of the team at Standing Stone Brewing Company. RVF2S is so grateful to have been a beneficiary of such a beautiful, intentional event. Both ourselves and the folks at SSBC look forward to next year's event - see you on Oak Street!
Special thanks to the following businesses for their wine, beer, and cider contributions:
Apple Outlaw
Bridgeview Vineyards & Winery
Cliff Creek Cellars
Quady North
Wooldridge Creek Vineyard & Winery;
Special thanks to the following for providing musical entertainment:
DJ Veach
The Brothers Reed
Special thanks to the following businesses for contributing to the silent auction:
Ashland Mountain Adventures
Eagle Point Golf Club
Get N' Gear
Indigo Creek Outfitters
La Mera Gardens
Lake Shastina Golf Resort
Lillie Belle Farms Artisan Chocolates
Mt. Shasta Resort
Posh Organics
Rogue Creamery
Rogue Rock Gym
Rogue Valley Country Club
South Stage Cellars
Stewart Meadows Golf Course